FlekStore Pro
FlekStore Pro offers a premium service for easily installing the best games, ++ tweaks, tweaked apps, jailbreak apps, Cydia tweaks, sideloaded apps, themes, and emulators on iOS devices without requiring a computer.
FlekStore Pro costs $14.99 for up to 12 months. It's compatible with the latest iOS 17 and 14 versions, includes a developer certificate for self-signing, and works on iPhones, iPads, and iPod Touch.
What is FlekStore?
FlekSt0re isn't just another third-party app store; it's a revolution in app discovery and installation. We bring you a range of incredible features that redefine the way you interact with iOS apps. Welcome to the future of app signing and customization.
Best features of FlekStore
No Ads in Apps
Tired of intrusive ads within your apps? FlekSt0re ensures a clean, ad-free experience for every app you install. Enjoy the true essence of your apps without distractions.
More Stable Apps
FlekSt0re offers a selection of the most trending apps that are rigorously tested for stability, ensuring a smoother and frustration-free experience.
User-Friendly Interface
Navigating through FlekSt0re is easy. Our intuitive interface is designed to make your app discovery and installation process seamless and enjoyable.
Convenient Search
Find the apps you need, effortlessly. Our robust search feature helps you locate your desired apps quickly and efficiently.
Personal Development Certificate
Unlock a world of possibilities with our personal development certificate. Sign your own apps and explore the potential of iOS app development.
Simple Installation
No complicated procedures. No special skills are required. FlekSt0re simplifies the app installation process, giving you instant access to the apps you desire.
How to install FlekStore
Step 1: Tap "FlekStore PRO" and open Safari Browser.
Step 2: Tap the "share" button then choose "Add to Home Screen."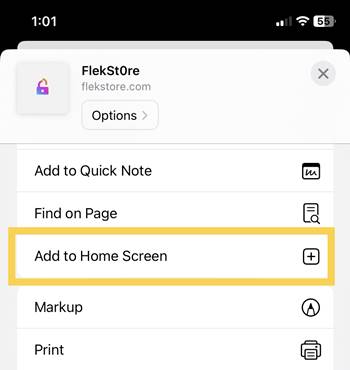 Step 3: Open the new app icon on your home screen.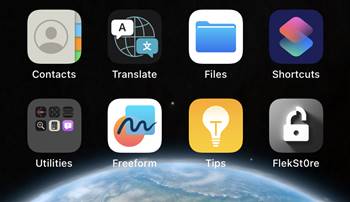 Step 4: Inside the app, go to "Device."
Step 5: Add the special UDID profile to your device.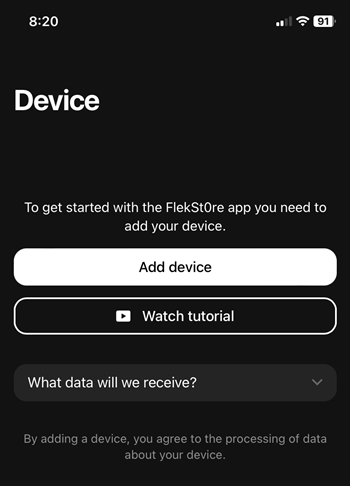 Step 6: In Device Settings, go to General > Device Management.
Step 7: Install a new profile, giving FlekStore your UDID.
Step 8: Purchase and activate the subscription.
Step 9: Enjoy access to App Store!
FlekSt0re is Your Ultimate iOS Companion
Explore a curated collection of Apps, Emulators, Tweaks, and more. FlekSt0re provides a diverse array of apps to suit your needs.
No extra tools, no technical hurdles. Installing your favorite apps is as easy as a few taps.
Experience lightning-fast app signing in real-time, ensuring you get to enjoy your apps without delay.
Take control of your app experience with a developer certificate that empowers you to self-sign apps.
No Complicated Setups: No cables, no computers, and no jailbreaks. FlekSt0re brings you a hassle-free installation experience right on your device.
Discover and organize everything you need through our user-friendly bottom menu, thoughtfully categorized for your convenience.
Customize your app experience with ease. Change app names or install duplicates using the app's configuration menu.
Troubleshooting
Fixing Profile Installation Failed Error:
Step 1. Turn on Airplane Mode on your iPhone or iPad.
Step 2. Open Settings > Go to Safari > Clear History & Website Data.
Step 3. Tap to clear history and data.
Step 4. Turn off Airplane Mode after a few minutes.
Retry the installation steps
Fixing FlekStore Not Working:
Step 1. Open iOS device Settings.
Step 2. Tap the Safari.
Step 3. From the menu, tap Clear History and Website Data.
Step 4. Confirm by tapping Clear History and Data.
Video Guide For FlekStore
How to Delete FlekSt0re?
Step 1: Press and hold the Flekstore app icon on your device's Home Screen.
Step 2: Wait for it to start wiggling, then choose the "Delete Bookmark." option.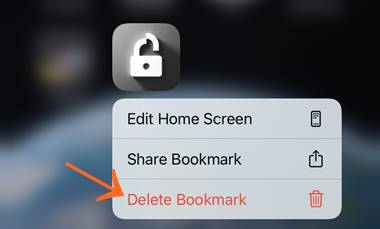 Step 3: Confirm by tapping "Delete" once more to remove FlekStore.
Flexibility and Freedom
Use Your Own Certificates: FlekSt0re offers the flexibility to use your own certificates or developer accounts, granting you free access to the service.
Signature Tool: Expand your horizons. Sign and install any application, even if they're not present in our catalog.
UI Customization: Tailor FlekSt0re to reflect your style. Personalize the app's look with color settings and theme selection.
Discover the Unseen
Dive into FlekSt0re's awesome features and enhance your iOS experience today! See the magic happen as you explore these cool features firsthand.
FlekSt0re FAQ
01. What is FlekSt0re? FlekSt0re is a user-friendly code signing platform for iOS that offers a curated collection of apps, emulators, tweaks, and more. It allows you to easily discover, install, and customize a variety of apps on your iOS device.
02. Is FlekSt0re safe to use? Absolutely! FlekStore prioritizes security and ensures that all apps undergo rigorous testing before they are made available. Our platform offers a safe and secure app installation process.
03. Do I need to jailbreak my device to use FlekSt0re? No, you don't need to jailbreak your device to use FlekStore. Our platform provides a hassle-free and non-intrusive way to install apps without compromising your device's security.
04. How do I install apps from FlekSt0re? Installing apps from FlekStore is simple. Just browse our collection, select the app you want, and follow the on-screen instructions for installation.
05. Can I install apps that are not in the FlekSt0re catalog? Yes, you can! FlekStore's signature tool allows you to sign and install applications that might not be available in our catalog, giving you even more flexibility and freedom.
06. Will I receive updates for the apps I install from FlekSt0re? Yes, FlekStore regularly updates its app catalog to provide you with the latest features, bug fixes, and improvements for the apps you install.
Join FlekSt0re Today!
Are you ready to begin a journey of limitless app possibilities? Join FlekSt0re now and redefine the way you experience iOS apps.