Dopamine Jailbreak
Dopamine is a semi-untethered jailbreak for iOS 15 – 15.4.1 developed by opa334 and Fugu15 by Linus Henze.
you can find all the related information about this Dopamine Jailbreak- download IPA-supported devices & supported iOS versions, features, and all, from this page.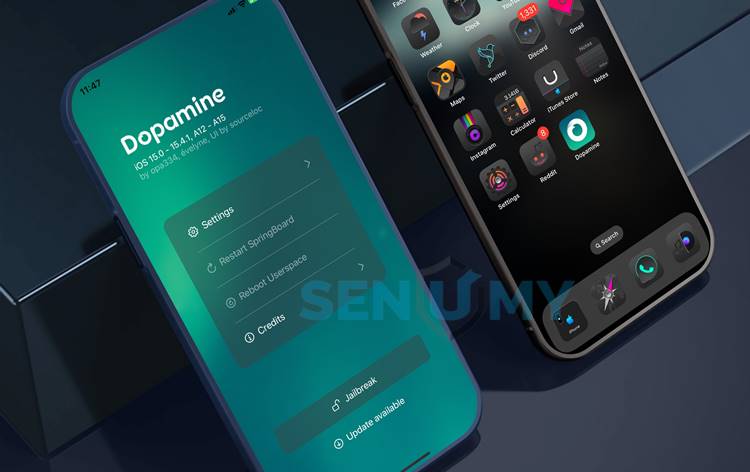 Dopamine is a continuation of the Fugu15 project and aims to bring a traditional end-user jailbreak environment to it, including:
Automatic trust cache handling
Tweak injection (via ElleKit)
libkrw (including the ability to write to PPL-protected memory and kcalling primitives)
Compatibility Devices
iPhone 13 Mini, iPhone 13 Pro, iPhone 13 Pro Max.
iPhone 12, iPhone 12 Mini, iPhone 12 Pro, iPhone 12 Pro Max.
iPhone 11 Pro Max, iPhone 11 Pro, iPhone 11.
iPhone Xs, iPhone Xs Max, iPhone XR.
iPhone X, iPhone 8, iPhone 8 Plus, Phone 7 & 7 Plus.
Compatibility iOS Versions of Dopamine Jailbreak
iOS 15.4.1 / iOS 15.4 / iOS 15.3 / iOS 15.2.1 / iOS iOS 15.2 / iOS 15.1.1 / iOS 15.1 / iOS 15.0.2 / iOS 15.0.1 & iOS 15
iPadOS 15.4.1 / iPadOS 15.4 / iPadOS 15.3 / iPadOS 15.2.1 / iPadOS iOS 15.2 / iPadOS 15.1.1 / iPadOS 15.1 / iPadOS 15.0.2 /iPadOS 15.0.1 & iPadOS 15.
How to Download & Install Dopamine Jailbreak
Step 01. You can download Dopamine IPA from the following button.
Step 2: Download and install the Altstore, TrollStore, and Sideloadly tools.
Step 3: Connect your device to the Windows PC or Mac.
Step 4: Drag the Dopamine Jailbreak IPA file into Sideloadly.
Step 5: Enter your Apple ID and tap on "Start".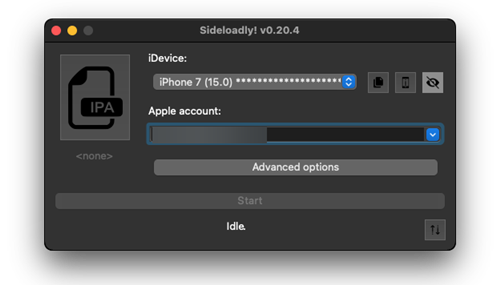 Step 6: Then you will have to enter your Apple ID and password.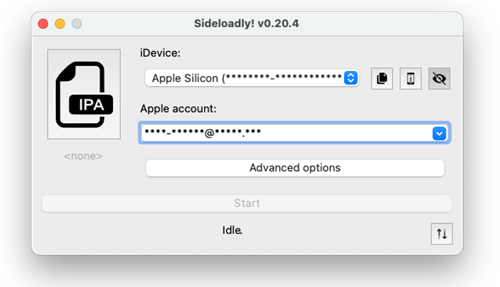 Wait a few minutes to finish the installation process.
Step 7: Then you go to Settings → General → Profiles & Device Management → Tap on Apple ID → Tap on Trust.
Step 08. Open Dopamine App select Sileo or Zebra package managers and click Jailbreak.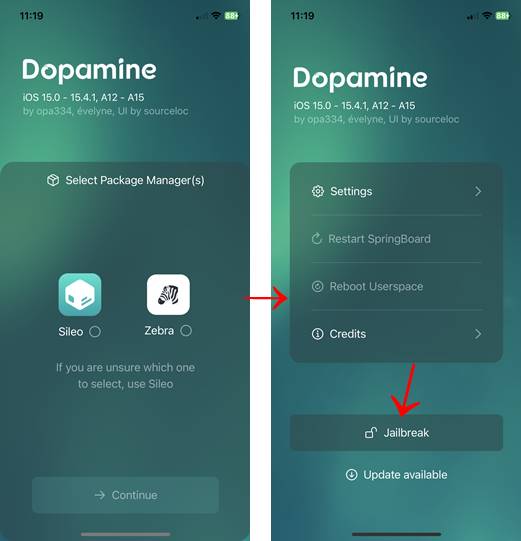 Enjoy!
Best Sileo and Zebra, Tweaks & Sources
There are many tweaks available in Zebra and Sileo app stores. Following Sileo and Zebra tweaks are the most necessary tweaks among these.
You can find the best Jailbreak Sileo & Zebra Tweaks for iPhone, iPad, and iPod Touch.