Palera1n GUI Tool for MacOS & Linux
The good news is that the palera1n jailbreak GUI version has been released and it is currently on macOS and supports Linux it currently supports macOS Catalina & Linux is a newer version.
Will make it a Mac OS App. For now, you must launch it through python3, and use install_deps.sh to fix missing libraries.
Developer By @ios_euphoria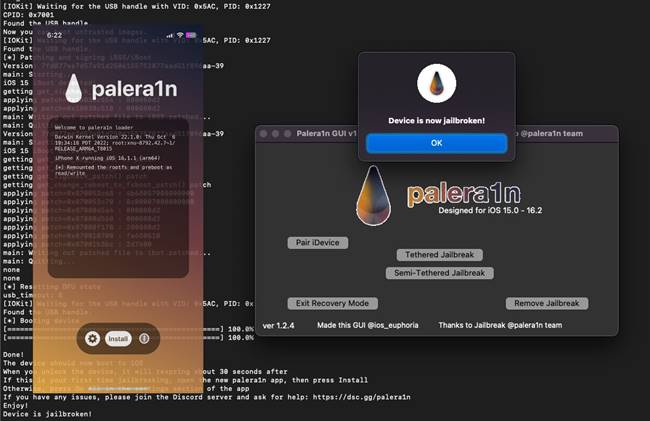 Palera1n+GUI Download for macOS v1.2.4
File size: 599.14MB
Palera1n+GUI Download for Linux
File size: 16.92MB
Palera1n GUI support iOS version:
iOS 16.4.1, iOS 16.3.1, iOS 16.3, iOS 16.2.1, iOS 16.2, iOS 16.1.2, iOS 16.1.1, iOS 16.1, iOS 16.0.3, iOS 16.0.2, iOS 16.0.1, iOS 16, iOS 15.7.2, iOS 15.7.1, iOS 15.7, iOS 15.6.1, iOS 15.6, iOS 15.5, iOS 15.4.1, iOS 15.4, iOS 15.3.1, iOS 15.3, iOS 15.2.1, iOS 15.2, iOS 15.1.1, iOS 15.1, iOS 15.0.2, iOS 15.0.1, iOS 15
Palera1n GUI support devices:
A8 / A8X – Phone 6, iPhone 6 Plus, iPad mini 4, iPad Air 2
A9 / A9X – iPhone 6S, iPhone 6S Plus, iPhone SE, iPad (2017) 5th Generation, iPad Pro (12.9 in.) 1st generation, iPad Pro (9.7 in.)
A10 /A10X – iPhone 7 and iPhone 7 Plus, iPad (2018, 6th generation), iPad (2019, 7th generation), iPad Pro 10.5″ (2017), iPad Pro 12.9″ 2nd Gen (2017)
A11 – iPhone 8, iPhone 8 Plus, and iPhone X
How to use Palera1n GUI?
Step 01. Download the palera1n GUI tool on your mac machine
Step 02. Now open your terminal and type cd space and then drag and drop the palera1n GUI folder.
Step 03. After typing bash space and drag and drop the install .install_deps5.sh file > enter > type your password.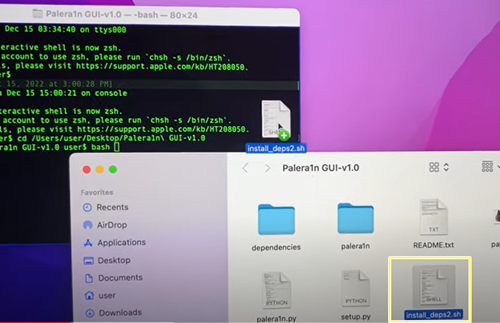 Step 04. Now install the command line prompt. (take time for files to install)
Make sure you have the following installed: Execute each in the terminal!
brew install python3
pip3 install tk
pip3 install Pillow
sudo xattr -rd com.apple.quarantine PALERA1N FOLDER PATH HERE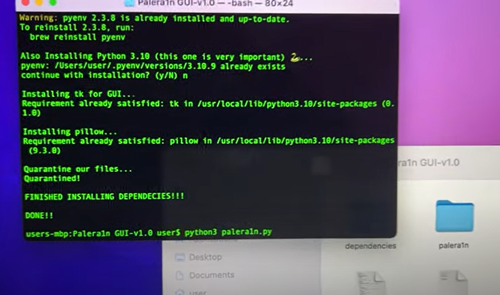 You don't have to install pillow or python3 you're not in this folder so make sure.
Step 05. Now enter > Boom > auto open palera1n GUI tool.
Step 06. Connect your iOS device > Pair iDevice >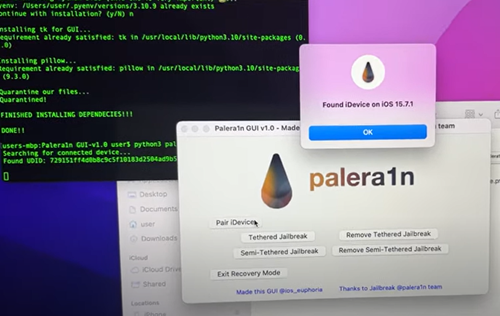 Step 06. Select the semi-tethered or tethered jailbreak > enter your iOS vision> Now follow the terminal process.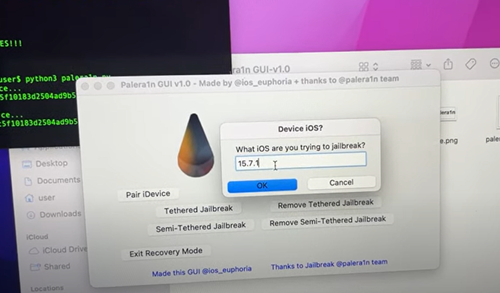 How to use Palera1n GUI video guide.
Palera1n GUI Part 1
Palera1n GUI Part 2