iSTB

iSTB enables you to enjoy IPTV content from MAC address-based providers utilizing Stalker Middleware, as well as providers leveraging the Xtream Codes API. Enhance your viewing experience with seamless compatibility and versatile access.
You can download iSTB IPA to your iPhone / iPad directly from the Senumy IPA Library.
---
Download iSTB IPA from your computer to install it using Altstore, Sideloadly, TrollStore, Scarlet, and Esign.
How to Install iSTB IPA File.
Screenshot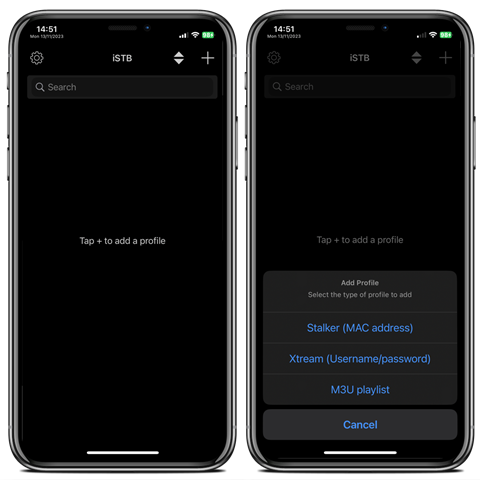 Compatibility iOS & iPadOS
iOS 17.1, iOS 17.0.2, iOS 17.0.1, iOS 17
iOS 16.7, iOS 16.6.1, iOS 16.6, iOS 16.5.1, iOS 16.5, iOS 16.4.1, iOS 16.4, iOS 16.3.1, iOS 16.3, iOS 16.1, iOS 16.0.3, iOS 16.0.2, iOS 16.0
iOS 15.7.6, iOS 15.7.5, iOS 15.7.4, iOS 15.7.3, iOS 15.7.3, iOS 15.7.2, iOS 15.7.2, iOS 15.7.1, iOS 15.7, iOS 15.6.1, iOS 15.6, iOS 15.5, iOS 15.4.1, iOS 15.4 , iOS 15.3.1, iOS 15.3, iOS 15.2.1. iOS 15.2, iOS 15.1.1, iOS 15.1, iOS 15.0.2 , iOS 15.0.1, iOS 15.0
iOS 14.8 , iOS 14.7.1, iOS 14.7, iOS 14.6, iOS 14.5.1, iOS 14.5, iOS 14.4.2, iOS 14.4.1, iOS 14.4, iOS 14.3, iOS 14.2.1
iOS 14.2, iOS 14.2, iOS 14.1
iOS 13/ iOS 13.1/ iOS 13.1.1/ iOS 13.1.2/ iOS 13.1.3/ iOS 13.2/ iOS 13.2.1/ iOS 13.2.2 / iOS 13.2.3/ iOS 13.3/ iOS 13.3.1/ iOS 13.4/ iOS 13.4/ iOS 13.4.1/ iOS 13.4.1/ iOS 13.5/ 13.5.1/ iOS 13.6
Compatibility Devices
iPhone 14, iPhone 14 Plus, iPhone 14 Pro, iPhone 14 Pro Max, iPhone 13, iPhone 13 Mini, iPhone 13 Pro, iPhone 13 Pro Max, iPhone 12, iPhone 12 Mini, iPhone 12 Pro, and iPhone 12 Pro Max, iPhone 11 Pro Max, iPhone 11 Pro, iPhone 11, iPhone Xs, iPhone Xs Max, iPhone XR, iPhone X, iPhone 8, iPhone 8 Plus, Phone 7 & 7 Plus, iPhone 6S & 6S Plus, iPhone 6 & 6 Plus, iPhone SE