Rootless Jailbreak

Rootless Jailbreak for iOS 12 to iOS 12.4.8 versions running A7 – A11 Devices.
The Rootless Jailbreak tool stands out for its unique approach, as it doesn't automatically install third-party app managers like Cydia or Sileo upon completing the jailbreak process. Instead, it provides access to the var sub-directory, allowing users to manually install jailbreak tweaks through tools like Rootless Installer or Filza.
---
Download Rootless IPA from your computer to install it using Altstore, Sideloadly, TrollStore, Scarlet, and Esign.
RC.2.1
Screenshot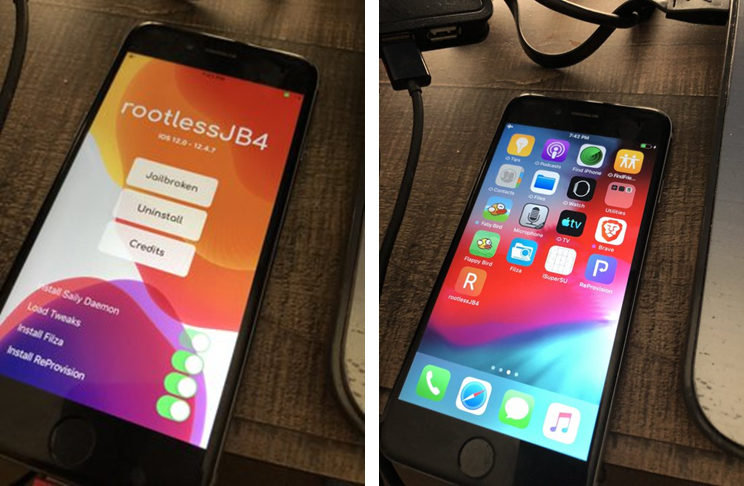 How to Install Rootless Jailbreak IPA File.
AltStore
AltStore is an iOS app that lets you sideload IPA files onto your device using your Apple ID. It re-signs apps with your personal certificate, supporting iOS 12.2 and ensuring compatibility with iOS 17. x

Install IPA file with AltStore Tool >>
Sideloadly
Sideloadly, a Cydia Impactor alternative works on Windows and macOS. Even without these operating systems, you can sideload IPA files directly to your iOS device, supporting versions iOS 7 to iOS 17. x.

Install IPA file with Sideloadly Tool >>
TrollStore
TrollStore is a permasigned jailed app that can permanently install any IPA installer, supporting iOS 15.0 – 15.6 (RC), and iOS 14.0 – 14.8.1. It works by using AMFI/CoreTrust to verify that the root certificate is used to sign the app and not revoke it.

Install IPA file with TrollStore Tool >>
ESign
ESign is a free mobile IPA signature tool for iOS, allowing you to sign apps with your own certificates and install them on your iPhone or iPad. It serves as a sideloading alternative with support for iOS 11 up to iOS 17. x, enabling the installation of IPA files without a computer.

Install IPA file with E-Sing Tool >>
Scarlet
Scarlet is installed with this tool, which allows you to add jailbroken repos and install IPA, all without a jailbreak, with support for iOS 11 up to iOS 17. x

Install IPA file with Scarlet Tool >>
Compatibility iOS & iPadOS
iOS 12, iOS 12.0.1, iOS 12.1, iOS 12.1.1, iOS 12.1.2, iOS 12.1.3, iOS 12.1.4, iOS 12.2, iOS 12.3, iOS 12.3.1, iOS 12.3.2, iOS 12.4, iOS 12.4.1, iOS 12.4.2, iOS 12.4.3, iOS 12.4.4, iOS 12.4.5, iOS 12.4.6 and iOS 12.4.7, iOS 12.4.8
Compatibility Devices
iPhone X, iPhone 8 and 8 Plus, iPhone 7, 7 Plus, iPad (2018, 6th generation), iPod touch (2019, 7th generation)
iPhone 6 and 6 Plus
iPhone 5S
iPhone 6S and 6S Plus , iPhone SE (1st generation)
iPad (2019, 7th generation)
iPad (5th generation), iPod touch (6th generation), iPad mini 4,iPad Air, iPad Mini 2, iPad Mini 3