Cowabunga
Cowabunga Jailed toolbox application for iOS 14.0-15.7.1 and 16.0-16.1.2 using MacDirtyCow
You can download Cowabunga IPA to your iPhone / iPad directly from the Senumy IPA Library.
---
Download Cowabunga IPA from your computer to install it using Altstore, Sideloadly, TrollStore, Scarlet, and Esign.
Latest v10.3.2
Update features:
You can now choose to enable v8 and/or v10 theming
Padding for file path replacing operations
Added back keyboard buttons audio
More safety with icon theming: first attempts to revert corrupted files before aborting
Improved error messages
Fixed springboard tools view sizing on ipads
Fixed springboard tools on RTL languages
Updated backend repo for explore page
And more info for Cowabunga App.
Download previous version of Cowabunga: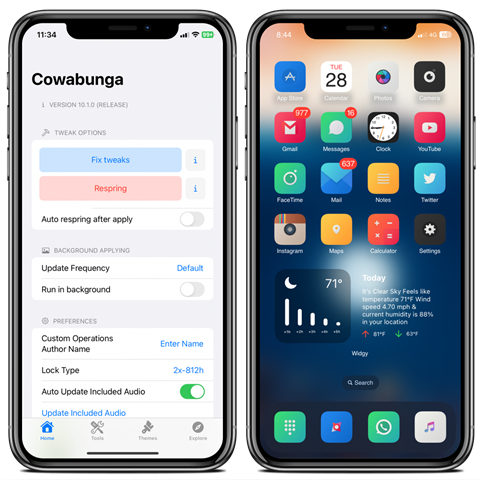 How to Install Cowabunga IPA File.
AltStore
AltStore is an iOS app that lets you sideload IPA files onto your device using your Apple ID. It re-signs apps with your personal certificate, supporting iOS 12.2 and ensuring compatibility with iOS 17. x

Install IPA file with AltStore Tool >>
Sideloadly
Sideloadly, a Cydia Impactor alternative works on Windows and macOS. Even without these operating systems, you can sideload IPA files directly to your iOS device, supporting versions iOS 7 to iOS 17. x.

Install IPA file with Sideloadly Tool >>
TrollStore
TrollStore is a permasigned jailed app that can permanently install any IPA installer, supporting iOS 15.0 – 15.6 (RC), and iOS 14.0 – 14.8.1. It works by using AMFI/CoreTrust to verify that the root certificate is used to sign the app and not revoke it.

Install IPA file with TrollStore Tool >>
ESign
ESign is a free mobile IPA signature tool for iOS, allowing you to sign apps with your own certificates and install them on your iPhone or iPad. It serves as a sideloading alternative with support for iOS 11 up to iOS 17. x, enabling the installation of IPA files without a computer.

Install IPA file with E-Sing Tool >>
Scarlet
Scarlet is installed with this tool, which allows you to add jailbroken repos and install IPA, all without a jailbreak, with support for iOS 11 up to iOS 17. x

Install IPA file with Scarlet Tool >>
Compatibility iOS & iPadOS
iOS 16.0, iOS 16.0.1, iOS 16.0.2, iOS 16.1, iOS 16.1.1, iOS 16.1.2
iPadOS 16.0, iPadOS 16.0.1, iPadOS 16.0.2, iPadOS 16.1, iPadOS 16.1.1, iPadOS 16.1.2
Compatibility Devices
iPhone 14, iPhone 14 Plus, iPhone 14 Pro, iPhone 14 Pro Max, iPhone 13, iPhone 13 Mini, iPhone 13 Pro, iPhone 13 Pro Max, iPhone 12, iPhone 12 Mini, iPhone 12 Pro, and iPhone 12 Pro Max, iPhone 11 Pro Max, iPhone 11 Pro, iPhone 11, iPhone Xs, iPhone Xs Max, iPhone XR, iPhone X, iPhone 8, iPhone 8 Plus, Phone 7 & 7 Plus, iPhone 6S & 6S Plus, iPhone 6 & 6 Plus, iPhone SE